Solo Exhibition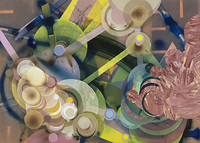 Von Lintel Gallery is proud to present Skywriting, the fourth solo exhibition with the gallery by Rosemarie Fiore, Bronx based painter, sculptor, and performance artist.
Over the last 22 years Fiore has continuously refined her unique Smoke Painting process, which makes use of the colored smoke contained in fireworks. To control and direct the smoke she has fabricated over 200 tools/sculptures, which range in size and complexity from a small hand-held tool to a giant 400 pound fork lift operated tool, which can hold 150 smoke bomb canisters controlled by a series of linked fuses. She uses these devices, as others would use paint brushes. They allow her to distribute the tinted smoke directly on paper, or more recently canvas.
"Wobbles, spinning on and off, in and out of control are drawn with Fiore's singular artist designed spirographic tools. These tools engage the entire body, or many people's bodies, to move from a fixed point. Building on the surrealistic technique of fumage as well as performance artists such as Carolee Schneeman who worked with the limits of the body and drawing, chance and chaos are tandem forces in Fiore's work. She responds to the physics of the tool she has created and the limits of the smoke bombs they contain- with tube or carton once ignited has a limited amount of pigment or painting 'time' within it. " - Lindsey Landfried



For additional information or visual material, please contact the gallery at (310) 559-5700 or by email at

gallery@vonlintel.com

.




Bergamot Station




2525 Michigan Avenue, Unit A7




Santa Monica, CA 90404
---
Public Performance and Smoke Street Painting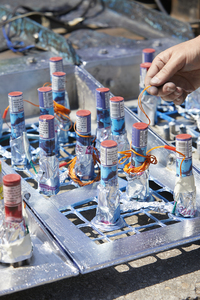 photo credit: Kohler Co.

Presented by Munson-Williams with Sculpture Space
Sponsored by the MetLife Foundation

Free & Open to the Public
Experience a one-of-a-kind art event! Artist Rosemarie Fiore will create a temporary painting on a closed section of Genesee Street directly in front of the Museum from noon to 3 pm Saturday, July 16, as a highlight of the annual Arts Festival at Munson-Williams-Proctor Arts Institute.
Fiore, an alumna of Utica's Sculpture Space, will use her innovative "Blue Skies" Forklift Smoke Painting tool to ignite an array of colorful pyrotechnic smoke bombs that imprint an original work of art on the street as she drives the lift in a winding pattern of circles and spirals. The temporary artwork will be on display through Sunday, July 17. Join Rosemarie during a drop-in workshop to create and use tools for drawing on Friday, July 15, from 1 to 3 pm at the Museum.


Munson-Williams-Proctor Arts Institute
310 Genesee Street, Utica, NY

July 16th from 12-3 PM
On Genesee Street in front of the museum.

---
New Public Collection Acquisitions 2021
The Studio is pleased to announce the addition of Fiore's work to the Kohler Company, John Michael Kohler Art Center, Wisconsin and Montefiore Medical Center, NYC Public Collections.