Solo Exhibition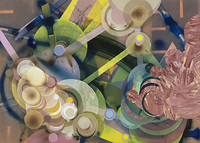 Von Lintel Gallery is proud to present Skywriting, the fourth solo exhibition with the gallery by Rosemarie Fiore, Bronx based painter, sculptor, and performance artist.
Over the last 22 years Fiore has continuously refined her unique Smoke Painting process, which makes use of the colored smoke contained in fireworks. To control and direct the smoke she has fabricated over 200 tools/sculptures, which range in size and complexity from a small hand-held tool to a giant 400 pound fork lift operated tool, which can hold 150 smoke bomb canisters controlled by a series of linked fuses. She uses these devices, as others would use paint brushes. They allow her to distribute the tinted smoke directly on paper, or more recently canvas.
"Wobbles, spinning on and off, in and out of control are drawn with Fiore's singular artist designed spirographic tools. These tools engage the entire body, or many people's bodies, to move from a fixed point. Building on the surrealistic technique of fumage as well as performance artists such as Carolee Schneeman who worked with the limits of the body and drawing, chance and chaos are tandem forces in Fiore's work. She responds to the physics of the tool she has created and the limits of the smoke bombs they contain- with tube or carton once ignited has a limited amount of pigment or painting 'time' within it. " - Lindsey Landfried



For additional information or visual material, please contact the gallery at (310) 559-5700 or by email at

gallery@vonlintel.com

.




Bergamot Station




2525 Michigan Avenue, Unit A7




Santa Monica, CA 90404
---
Public Performance and Smoke Street Painting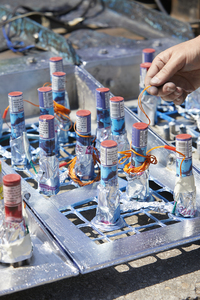 photo credit: Kohler Co.

Presented by Munson-Williams with Sculpture Space
Sponsored by the MetLife Foundation

Free & Open to the Public
Experience a one-of-a-kind art event! Artist Rosemarie Fiore will create a temporary painting on a closed section of Genesee Street directly in front of the Museum from noon to 3 pm Saturday, July 16, as a highlight of the annual Arts Festival at Munson-Williams-Proctor Arts Institute.
Fiore, an alumna of Utica's Sculpture Space, will use her innovative "Blue Skies" Forklift Smoke Painting tool to ignite an array of colorful pyrotechnic smoke bombs that imprint an original work of art on the street as she drives the lift in a winding pattern of circles and spirals. The temporary artwork will be on display through Sunday, July 17. Join Rosemarie during a drop-in workshop to create and use tools for drawing on Friday, July 15, from 1 to 3 pm at the Museum.


Munson-Williams-Proctor Arts Institute
310 Genesee Street, Utica, NY

July 16th from 12-3 PM
On Genesee Street in front of the museum.

---
New Public Collection Acquisitions 2021
The Studio is pleased to announce the addition of Fiore's work to the Kohler Company, John Michael Kohler Art Center, Wisconsin and Montefiore Medical Center, NYC Public Collections.
---
Performance and Public Murals creation

photo credit: Ken Grau

September 10, 2021

"The HUB-Robeson Center lawn was shrouded in a blaze of vibrant and multicolored smoke from 2-5 p.m. Friday during a performance event commemorating the 20th anniversary celebration for the Jeffrey A. Conrad Center for Sexual and Gender Diversity.
With a temporary stage set up on the far end of the lawn, Rosemarie Fiore — a Bronx-based artist — took the audience through a journey involving colored smoke bombs.
Filled with bright hues of varying colors, the smoke canisters were rigged together on various instruments Fiore then used to create eccentric patterns on multiple canvases.

The project was supported by the National Endowment for the Arts and Penn State Strategic Seed Grant Initiative, with additional support from Penn State Student Affairs, the HUB and CSGD." Daily Collegian

The three large scale canvas murals generated through the performance will be on view at the Hub building on campus through 2024.




video

and

brochure

courtesy of Penn State Student Affairs and the Hub-Robeson Gallery
---
Forklift Smoke Painting Performance, Kohler Company, Kohler, WI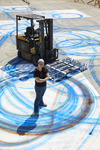 photo credit: Kohler Company

August 19, 2021

A 100 x 36 foot temporary painting was created on the asphalt at the Kohler Company factory in Kohler Wisconsin using the "Blue Skies" Forklift Smoke Painting tool. The tool was created at the factory during an Arts/Industry residency and consists of 12 parts cast in collaboration with the factory finished in brass with patina and chrome metal plating. The tool held upwards of 120 color smoke canisters and was operated while driving a forklift. The performance was funded by the John Michael Kohler Art Center with techinical support porvided by the factory and the Arts/Industry residency foundry technician.



video

courtesy of Rosemarie Fiore Studio
---
Exhibition

"ROSEMARIE FIORE", HUB Gallery, 2021. Photo: Southern
ROSEMARIE FIORE
June 18, 2021 – January 30, 2022
| HUB Gallery
Known for converting popular technologies such as lawnmowers, cars, floor polishers, and amusement park rides into painting machines, selected works from the past 10 years of Fiore's practice will be on view in HUB Gallery.
Fiore
worked with students in the School of Visual Arts to develop the pyrotechnic tools which she used in a performance on the HUB Lawn this Fall. This project is supported in part by an award from the National Endowment for the Arts.
Catalog available
Penn State University
241 HUB-Robeson Center
University Park, PA 16802
Phone:
814-865-2563
Email:
galleries@psu.edu
---
National Endowment for the Arts Grant 2021

photo credit: Emma Kappel

Penn State's HUB-Robeson Galleries has received a $25,000 Grants for Arts Projects award from the National Endowment for the Arts to support a performance celebrating inclusivity in Central Pennysylvania, titled "Rosemarie Fiore: Smoke Painting Performance," by artist Rosemarie Fiore.
The award will bring Fiore to the University Park campus for an outdoor smoke-painting performance in fall 2021. The 3-hour performance will result in three large-scale murals which will be displayed in the HUB-Robeson Cultural Center for two years. A solo exhibition of several years and bodies of Fiore's work also will be on view at the HUB Gallery.
Artist Rosemarie Fiore produces artwork out of the actions of mechanisms by converting popular technology such as lawn mowers, cars, waffle irons, floor polishers, pinball machines, fireworks and amusement park rides into painting machines. Fiore was selected by a jury of students, community members, faculty and staff from throughout the University. Fiore worked with students from the School of Visual Arts in 2020 to design and build smoke-drawing and -painting tools.
The HUB-Robeson Galleries project is among more than 1,100 projects across America totaling nearly $27 million that were selected during this second round of Grants for Arts Projects fiscal year 2021 funding.
"As the country and the arts sector begin to imagine returning to a post-pandemic world, the National Endowment for the Arts is proud to announce funding that will help arts organizations such as HUB-Robeson Galleries reengage fully with partners and audiences," said NEA Acting Chairman Ann Eilers. "Although the arts have sustained many during the pandemic, the chance to gather with one another and share arts experiences is its own necessity and pleasure."